"Sharon, Thank you! Luna looks great and does everything she is suppose to do for training. We highly recommend you!
Maurizio and Joanne"
Very Happy with the training results, & the care they took with Sasha.
Wayne Nichols
Happy to take LeStat home! He looks and acts amazing!
Thank you Sharon, K-9 Specialist
Veronica Hodges
Sharon, K-9 Specialist, did a great job with Lady and Bear, very happy!
Thank you Sharon,
Lisa Lipka
We are very happy with his training and he is very will behaved now. We are excited to continue his training now that he is manageable.
Alexandra Ludeman
Walking my pups was unpleasant before, but now is very enjoyable. I had never seen them stay before, and now I have. Looking forward to enjoying my new dogs!
Rachel Saunders
I am very excited to be taking Hamilton home tonight. I know that our walks will be so much better now that he is focused and aware of his behavior while on leash. We are looking forward to our in-home visits to further work on his manners. Thanks K-9 Specialist!
Stacy Silk
---
Dre
Sharon and Al have done a remarkable job with Dre.  After 5 weeks he is near perfect on and off leash.  My dog seemed very happy here, at the facility, which was important to me.
Brad Gladstone
Commerce, MI
---
Kona
Prior to K9 Specialist Kona was great with our family of 5 (w/ 3 children), however, she began showing very aggressive and uncontrollable qualities towards neighbors/friends, other dogs and extended family members.  We look forward to applying the skills learned from K9 Specialist and to see how she integrates into our home and responds to the chaotic environment with our kids and "normal life".
Jason & Tawna Vallance
Spring Lake, MI
---
Hopper
I would highly recommend K9 Specialist for Advanced Obedience Training.  Sharon not only established a solid obedience foundation for our dog but she also worked with us extensively to ensure we had the proper training and tools to be able to allow our dog to be the best he can be!
Brad & Jessica Hill
---
We are very excited to see Bear's progress in the last 6 weeks.  Sharon was able to work with our stubborn boy and he is now healing while walking and listening to our commands.  Hoping he'll only continue to improve when we bring him home and continue his training.
Joe & Devin Smitherman
Livonia, MI
We are more than pleased with the training Lakota received here!  Honestly, words cannot even describe the happiness and gratitude we have in our hearts because of the experience we had with the people here.  Sharon is so intelligent and truly loves all dogs, and Al couldn't have been more helpful with making Lakota the Best dog in the whole world!  We got more than we ever expected!  I recommend this place to EVERYONE!!!  I fricken love this place so much and everyone here, thank you, thank you!!!
Kanaan Vargas &  Danielle Arhangelos
Ann Arbor, MI
We are very happy with the training so far & look forward to continuing Timber's rehabilitation.  We have noticed significant improvements with both dogs while we walk them and  are excited to walk them without fear of having problems now.  We are very glad we decided to bring our dogs here for training.
Kristin & Zach  Bletz
Grand Rapids, MI
---

Jett
We just finished training with Sharon.  My dog, Jett, is night and day differnet from when we originally started training.  They were also awesome to work with our schedule during the training process.  We are looking forward to further training!
Nate & Emily Versluis
Harvey
Harvey is a different dog.  A new and improved version of himself.  When we dropped him off he didn't respond to his name, sit, stay and he would run away any chance he had.  He is now sitting and staying, heeling and is a shadow dog.  We can take him for a walk instead of him pull and taking us on a walk.  Thank you, Sharon, for everything you did.
Great Experience!  I loved seeing the progress each week and would recommend to anyone.
Mike Mohn
---
Rebekah Weicht
---
---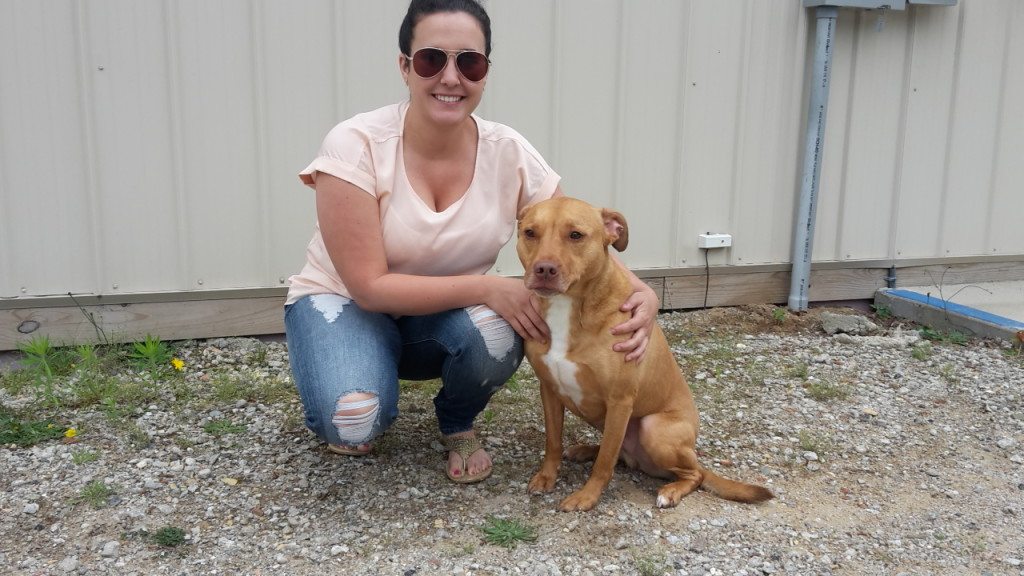 ---
Update:  Maggie and Molly got to test their training with all of the
strangers coming in, and out, of our home to see the puppies.  They did very
well, and were good selling tools when we'd show their newfound skills off
to prospective buyers.  After the last puppy found its forever home we
took Libby to Sharon for her training.  After four weeks she's returned
home.  We're proud to have all three dogs sitting calmly, side-by-side (as
opposed to barking, howling and jumping) when visitors enter our home.
---
OZZIE
Sharon is a pleasure to work with.  She answered all questions and provided detailed information to support the training techniques.
Rhona Wenger (Holland, MI)
---
Sugar
Hi Sharon, things are going well with Sugar!  Here is my testimonial…….
When I contacted Al my dog, Sugar, was a mess!  She had severe separation anxiety and could not be confined.  She chewed through crates, climbed out of a kennel and chewed up a door.  She also was very hyper, jumped up on everyone and she hassled my cats so much that I feared she would harm them.  Al assessed the situation and recommended I bring Sugar to Sharon to have her work with her for an extended period of time.  Boy, am I glad I did!  Sugar is a new dog!  She no longer has separation anxiety.  Sugar is calm and obedient, walks well off and on a leash and she leaves my cats alone!  Sharon is an excellent trainer.  She was very patient with both me and my dog.   My only regret is that I didn't call earlier.
This was my second experience with K9 Specialist.  Approximately 7 yrs ago Al helped me with my pit/staff terrier mix.  He trained him in basic obedience and helped me deal with him also hassling my cats.  This too was a fantastic experience.  Seven yrs later my Higgins continues to be a wonderful and well behaved dog!
---
BLACK JACK
We are thrilled with the way Black Jack's behavior has improved. We can enjoy the company of our dog without the behavior problems.  -Phebli Saut, Wixom MI.
---
BRADY
Thank you K9 Specialist! We are so appreciative of the training for our Brady. Brady has become much calmer and the training from Sharon for Brady AND us was outstanding. Sharon was patient will all of our questions and was kind when she needed to "remind or redirect" our behaviors. We feel more confident in ourselves about how to continue to work Brady and be the dog our family wants to have. Brady LOVED being at K9 Specialist and clearly loved Sharon as well, which eased us. After our visits, he woul dgo right to the door to go back inside to his temporary home. This proved to us the he liked it and that his training was working. Thank you again!!!!  -Patrick and Amanda Sorelle, Grand Haven, MI.
---
CARRERA
The improvement in Carrera's behavior was nothing short of amazing! She used to be a very stubborn, hard to control dog. But after her training I feel completely confident that she will be well behaved and under control from now on.  -Kate Elder, Royal Oak, MI.
---
Sharon did a wonderful job with our two male goldens. We were at our wits end when our two pups started to have serious fights with each other at 5 months old, we could not have them together in our home. We did not know what to do. We even considered separating them and having to find a new home for one of them. Thanks to Sharon's expertise and patience our dogs are back in our home getting along and well behaved!!
---
WINSTON and JACKSON
Winston and Jackson were trained by Sharon. She did a fabulous job working with and training both dogs. They are both now cal and walk well on and off leash. The dogs listen well to our commands. We now feel comfortable taking our dogs to public places and them being well behaved.  -Scott and Kelly Meyer, Otsego, MI.
---
STELLA
I am very pleased with Stella's progress. She is healing for me perfectly off leash. Sharon was great staying in touch with me throughout the process. I am very excited to work with her further at home! Thank you so much K9 Specialist  -Dasha, Novi, MI.
---
MY BABY
My dog was and is "My Baby". My dog "My Baby" was also scary aggressive. She had bitten 2 people and next time, she was being put down by "Animal Control". I dreaded taking her for walks because she was so protective, and aggressive, protecting me. After 2 months of training my life or death situation with "My Baby" was solved. She was a different dog. Her temperament was normal. I am grateful for every second of her training and it was worth every dime. I would pay it again. I am relieved and completely satisfied. Thank you so much! – Shirley Lely and Tamara Quibell